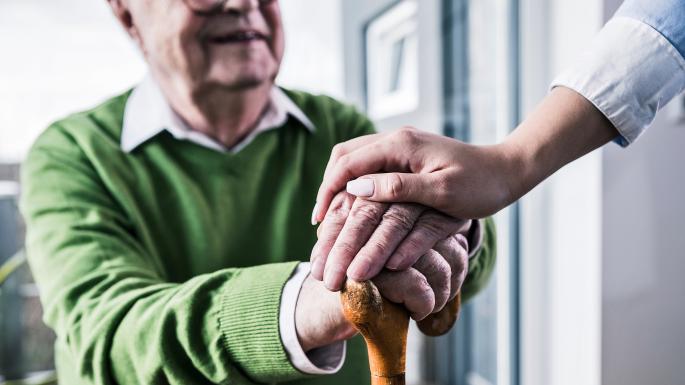 Mr Lincoln is happy in his new home thanks to Pathfinder team
A case study from our health and social care support in Cheshire East.
In July 2019, we received a referral for Mr Lincoln*, a 70-year-old man, who had recently moved to Crewe and was living in a shared house with six people, which was unsuitable for his needs. He had had a stroke and was struggling to get transport to appointments. He had no friends in the area and was extremely socially isolated. He was in receipt of his state pension but was not aware whether he was entitled to any other benefits.
Nikki, from our Pathfinder East team, initially spoke to Mr Lincoln at one of our drop in sessions and helped him complete an Attendance Allowance form and as well as discussing housing and social opportunities.
Nikki explains: "I assisted Mr Lincoln with requesting a Housing Needs Assessment from Cheshire Home Choice to try and get a higher priority banding. We also considered looking at extra care homes at this stage. Mr Lincoln was concerned that his Attendance Allowance was in place he couldn't afford to socialise, so we investigated low-cost social opportunities and transport options to access these.
"We initially completed a benefits check and also advised Mr Lincoln to apply for Pension Credit. Following our first contact, we've been in touch regularly to continue to help Mr Lincoln, from providing details for a new flexilink transport service and discussing social opportunities, such as Men in Sheds and exercise classes to assisting with housing benefit and council tax forms. We've also signposted Mr Lincoln to grants and other low-cost options so he can furnish his new home, which he moved into in January 2020.
"Unfortunately, Mr Lincoln's Attendance Allowance application was declined as he had been living abroad, but he can reapply in November 2020 when eligible.
"Throughout Lockdown we've been in touch with Mr Lincoln and our advice to apply for emergency assistance has had an enormously positive impact on his lifestyle and wellbeing."
With help from Cheshire Community Action and the Pathfinder team, Mr Lincoln has now found suitable housing and has some additional benefits in place. He also intends to reapply for Assisted Allowance when he's entitled.
Although he still has health worries, he's much happier in his new home, which was only affordable with the help of benefits. Since moving from shared house his mental health is also much improved. With our help and advice with regards to available grants, he has now received a TV, a stand, two-seater sofa and a cooker, which will have a hugely positive impact on his wellbeing. Mr Lincoln has been using the flexilink bus to get out and about and to appointments, therefore reducing social isolation, and is much more aware of social opportunities available when he's ready to take that step. He now has friendly neighbours, likes the area where he is living and is getting support from the neighbours' network with shopping, travel to hospital etc.
*Please note names have been changed to protect the identity of those involved.